KOZM BB-2
By Jeff Kosmoski
KOZM is a brand I have just stumbled across – amazing looking guitars. This one in particular took my eye enough to merit guitar of the month at one time: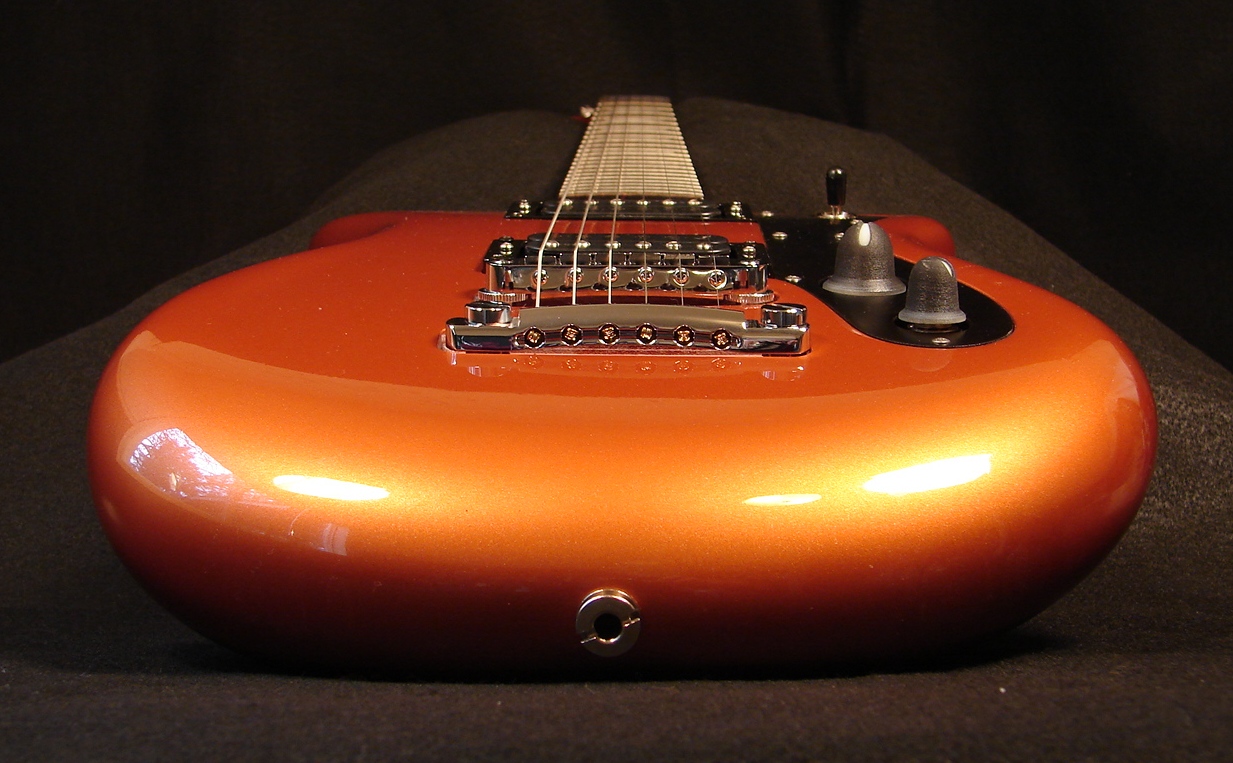 There certainly seems to be some different thinking going on here – I hope it's successful. Here's what Jeff Kosmoski himself has to say:
My name is Jeff Kosmoski. I'm single-handedly trying to shake-up the guitar-making industry and bring it into the modern age.

My background is in mechanical engineering and product design.

My passion is playing guitars, and making guitars.

Not two-dimensional guitars that are rooted in 1950s technology; but guitars with bodies that are organic, flowing, curvaceous, and three-dimensional. Bodies with visual excitement and sex appeal. Bodies that wrap and conform to the human body. And bodies that resonate, howl, scream and sing.

For the last 60 years or so, electric guitars have been trapped in a world that is basically two dimensional. The Fender Telecaster (celebrating its 60th anniversary this year) and the Gibson SG are probably the best examples. Interesting, classic designs that we all love and revere; but designs that are primarily 2D. Their 2D profiles have some curves and angles, and maybe even a beveled or a radiused edge. But the top and bottom are essentially ignored; and left perfectly flat – and perfectly boring.

60 years ago this approach made perfect sense, because technologically speaking, that was the state of the art. However, times have changed. The technology has changed. Basically everthing ELSE in the world has changed during this time. But for some reason, electric guitars haven't.

I think a change would do us good. And I hope to do just that.

Using modern CAD tools, and modern manufacturing techniques, I aim to bring guitar-design and guitar-building into the 21st century. I hope you're interested in joining me!
About this particular model:
Sound:

With its 2 humbuckers, tune-o-matic bridge, mahogany neck and 24 ¾" scale length, this guitar is sonically positioned somewhere between a Les Paul and an SG – probably closer to the Les Paul. Great sustain, great tonal balance, and with its chambered body, very light-weight.

Scale length: 24 3/4″

Pickups:

Bridge: Dimarzio DP 191 Air Classic

Neck: Dimarzio DP 190 Air Classic

Bridge: Gotoh Tune-o-matic

Stop Tailpiece: Gotoh

Electronics: 3 way switch, volume and tone controls

Switching:

1 – Bridge

2 – Bridge + Neck

3 – Neck

Neck: Bolt on, modified Warmoth (Puyallup, WA). Mahogany shaft, with Indian Rosewood fret-board. Pearloid trapezoid inlays. Double truss-rod system. Standard thin back contour. Compound radius (10″ to 16″). 6150 frets.

Nut: Graphtech Black tusq, 1 11/16″ wide

Tuners: Gotoh Midsize 510 Cosmo black

Strings: Ernie Ball Regular Slinkys (.010 to .046)